SOLID SERUM
Regular price

€120,00
Sale price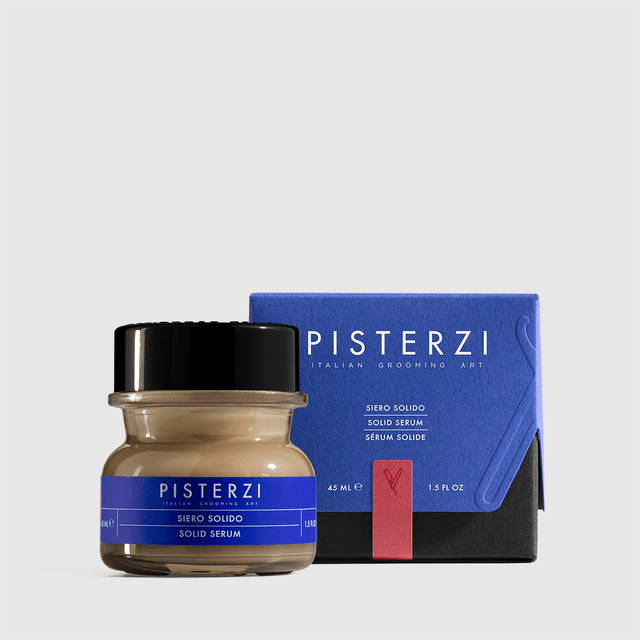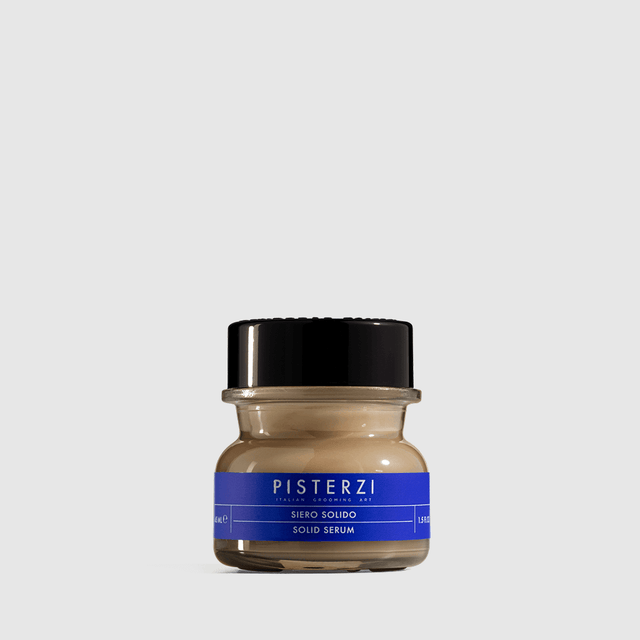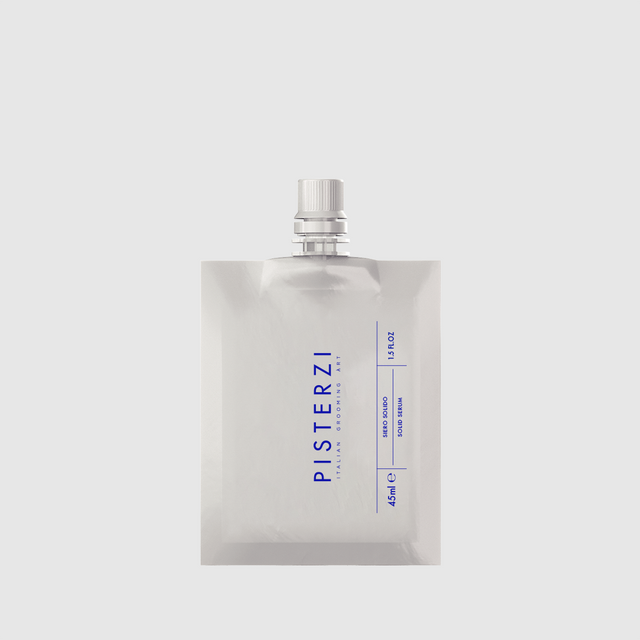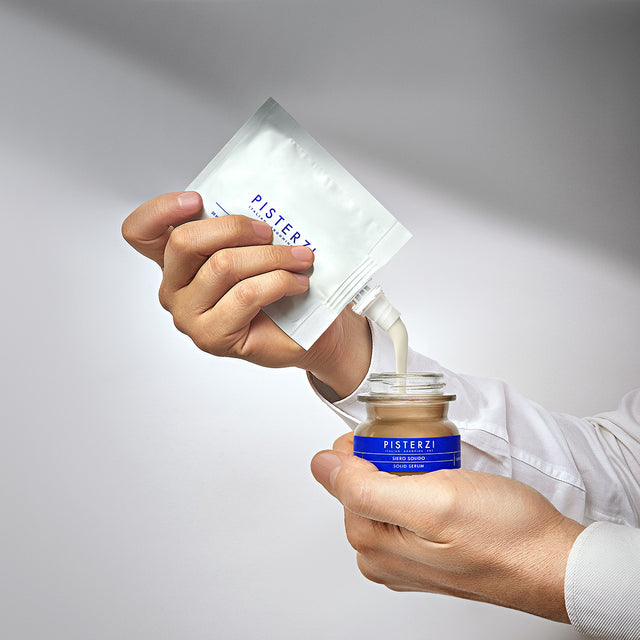 REFILLABLE GLASS BOTTLE
FORMULATED AND PRODUCED IN ITALY
FREE OF SILICONES - SLES - SLS
AN "ENERGY BOOSTER" FOR THE SKIN OF THE FACE, A MULTIFUNCTIONAL PRODUCT WITH MANY PROPERTIES. FORMULATED WITH 96% * OF INGREDIENTS OF NATURAL ORIGIN AND NICKEL-FREE ** IN FULL RESPECT OF EVEN THE MOST SENSITIVE SKIN *** IT IS SUITABLE FOR NORMAL, COMBINATION AND / OR DRY SKIN.
PRE-SHAVING - SHAVING: IT CAN BE USED AS A PRE-SHAVE TO SOFTEN THE SKIN AND BEARD HAIR IF ADDED TO THE SHAVING CARE CREAM, IT HELPS THE SMOOTHNESS OF THE RAZOR AND PROTECTS THE SKIN FROM REDNESS AND IRRITATION.
BEARD TREATMENT: IF MASSAGED ON MEDIUM-LONG BEARD IT NOURISHES IT AND MAKES IT BRIGHTER, SOFTER AND EASIER TO COMB.
FACE TREATMENT: IT CAN BE USED AS AN INTENSIVE DAILY MOISTURIZER AFTER CLEANSING OR AS AN SOS MASK WHEN A STRONG MOISTURIZING ACTION IS REQUIRED.****

WATER-FREE PRODUCT BASED ON COCONUT OIL THAT PRESERVES SKIN HYDRATION, ENRICHED WITH A BLEND OF VITAMINS C AND E THAT MAKE THE SKIN MORE LUMINOUS AND WITH MC2® ***** ACTIVE INGREDIENT CONSISTING OF A BALANCED COMPOSITION OF EXTRACTS BOTANICALS: TETRAHYDROPIPERINE DERIVED FROM BLACK PEPPER FRUITS, GINSENG EXTRACT AND AÇAI FRUIT EXTRACT. IT STIMULATES ENERGY, VITALITY AND CELLULAR METABOLISM, MAINTAINING SKIN TONE AND ENHANCING RADIANCE.
BENEFITS
*NATURAL ORIGIN INDEX (N.O.I.) ACCORDING TO ISO 16128 DEFINITION PART 1 AND 2 "GUIDELINES ON TECHNICAL DEFINITIONS AND CRITERIA FOR NATURAL AND ORGANIC COSMETIC INGREDIENTS AND PRODUCTS" REMAINING PART UPON COMPLETION OF THE FORMULA STRUCTURE.
** NICKEL TESTED LOWER THAN 0.00001%
*** DERMATOLOGICALLY TESTED ON SENSITIVE SKIN
**** SELF ASSESSMENT TEST USE ON 50 VOLUNTEERS FOR 15 DAYS BETWEEN 28 - 54 YEARS (26 SHORT BEARD USED TO SHAVING - 24 LONG BEARD)
EFFECTIVENESS PROVEN BY CLINICAL STUDIES:
IMPROVES SKIN QUALITY FOR 90% OF INTERVIEWED SUBJECTS;
MAKES THE SKIN MORE TONIC AND SOFT AFTER APPLICATION FOR 92% OF INTERVIEWED SUBJECTS;
MAKES THE SKIN BRIGHTER AND MORE COMPACT AFTER APPLICATION FOR 88% OF INTERVIEWED SUBJECTS;
MAKES THE SKIN SOFT TO THE TOUCH FOR 90% OF THE INTERVIEWED SUBJECTS;
REDUCES WRINKLES FOR 68% OF THE INTERVIEWED SUBJECTS;
MAKES THE COLOR BRIGHTER FOR 80% OF THE INTERVIEWED SUBJECTS;
MAKES THE BEARD SOFTER, BRIGHTER AND TIDIER FOR 75% OF THE INTERVIEWED SUBJECTS WHO HAVE USED THE PRODUCT AS A BEARD SERUM;
MAKES THE BEARD SOFTER AND FACILITATE SHAVING FOR 92% OF THE INTERVIEWED SUBJECTS WHO HAVE USED THE PRODUCT BEFORE SHAVING
IT REDUCES THE SIGNS OF THE RAZOR FOR 81% OF THE INTERVIEWED SUBJECTS WHO HAVE USED THE PRODUCT AFTER SHAVING.
***** MC2® IN VIVO TEST ACTIVE
HOW TO USE
USE IT IN THE MORNING AND IN THE EVENING AS A NORMAL MOISTURIZING TREATMENT; IT CAN ALSO BE USED BEFORE SHAVING FOR EXTRA PROTECTION. IT CAN BE APPLIED ON THE BEARD AS A MOISTURIZING TREATMENT, AS WELL AS A POST SHAVING FINISH.
EXTEND AND MASSAGE THE AMOUNT TO GIVE THE IDEAL COMFORT TO YOUR SKIN UNTIL COMPLETE ABSORPTION. IN THE EVENING AFTER A SHOWER OR AFTER USING OUR SCRUB MASK, IT CAN BE USED IN GREATER QUANTITY AND LEFT TO ABSORB WITH A WARM CLOTH FOR 20 MINUTES. DAB THE EXCESS WITH THE CLOTH AND SLEEP ON IT. IN THE MORNING THE SKIN WILL FEEL REGENERATED AND VERY SOFT.
INGREDIENTS
THIS LIST MAY BE SUBJECT TO CHANGES OVER THE COURSE OF TIME. PLEASE REFER TO THE INFORMATION INDICATED ON THE PRODUCT PACKAGING TO FIND OUT THE MOST UPDATED LIST OF INGREDIENTS
INGREDIENTS
COCOS NUCIFERA OIL, COCONUT ALKANES, DICAPRYLYL ETHER, HELIANTHUS ANNUUS (SUNFLOWER) SEED OIL, STEARYL ALCOHOL, HYDROGENATED VEGETABLE OIL, SILICA, HYDROGENATED CASTOR OIL, POLYGLYCERYL-3 BEESWAX, COCO- CAPRYLATE/CAPRATE, PARFUM (FRAGRANCE), OLEA EUROPAEA (OLIVE) FRUIT OIL, ASCORBYL PALMITATE, ZEA MAYS (CORN) OIL, TOCOPHERYL ACETATE, LIMONENE, LECITHIN, TOCOPHEROL, EUTERPE OLERACEA FRUIT EXTRACT, CITRONELLOL, LINALOOL, PANAX GINSENG ROOT EXTRACT, ALPHA- ISOMETHYL IONONE, TETRAHYDROPIPERINE, CITRAL, CITRIC ACID.
GART DNA FRAGRANCE
ALL PRODUCTS IN THE RANGE ARE ELEGANTLY SCENTED WITH THE NOTES OF OUR G.ART DNA© FRAGRANCE. THE COMPOSITION OPENS WITH A ZESTY FRESHNESS OF BERGAMOT, ASSOCIATED WITH AROMATIC NOTES OF BASIL AND SAGE THAT DRESS A COMFORTABLE AND FRESH BOUQUET OF GERANIUM, CYPRESS AND HYSSOP. VETIVER, CEDAR WOODS AND PATCHOULI BRING TEXTURE AND RICHNESS TO THE COMPOSITION.
SHIPPING AND DELIVERY
YOUR ORDERS WILL BE SHIPPED BY COURIER FROM OUR WAREHOUSE BASED IN ITALY.
SHIPPING COSTS ARE CALCULATED AS FOLLOW:
- TO ITALY €5,00
- TO EUROPE €10,00
- TO THE UK AND SWITZERLAND €15,00
SHIPPING COST IS FREE FOR ORDERS OVER €80 IN THE ITALIAN TERRITORY (OUTSIDE THE ITALIAN TERRITORY SHIPPING COST IS FREE FOR ORDERS OVER €100)
REFILL
OUR COMMITMENT TO BE SUSTAINABLE AND CAREFUL FOR THE ENVIRONMENT. ALL OUR PRODUCTS ARE AVAILABLE IN REFILLS (TO BE PURCHASED SEPARATELY) TO REFILL THE CORRESPONDING GLASS BOTTLE / JAR.
HELP US IN OUR SUSTAINABILITY MISSION FILL AND REUSE!

THE REFILL ALLOWS TO REDUCE THE C02 EQ EMISSION PER LITER OF PRODUCT BY MORE THAN 60% COMPARED TO THE '' PURCHASE OF 1 LITER WITH BOTTLE OR GLASS JAR

SOLID SHOPPER
OUR SHOPPING, HALFWAY BETWEEN A SHOPPING AND A BOX, IN 100% RECYCLED PAPER IN OUR UNMISTAKABLE BLUE AND 100% RECYCLABLE, EVEN THE HANDLES ARE IN PAPER.
FOR YOU OR FOR A SPECIAL GIFT BOX.
RECYCLABLE PACKAGING
THE COMPONENTS OF OUR PRODUCTS ARE RECYCLABLE AND CAN BE DELIVERED IN THE SEPARATE COLLECTION TO WHICH THEY REFER; CHECK THE MATERIAL INDICATIONS ON THE PACKAGING.

CHECK THE PROVISIONS OF YOUR MUNICIPALITY
EMPTY THE PACKAGING OF ITS CONTENTS BEFORE RECYCLING
CARE IN DETAILS