DAILY CLEANSER AND SCULPTING SHAVING
Regular price

€52,00
Sale price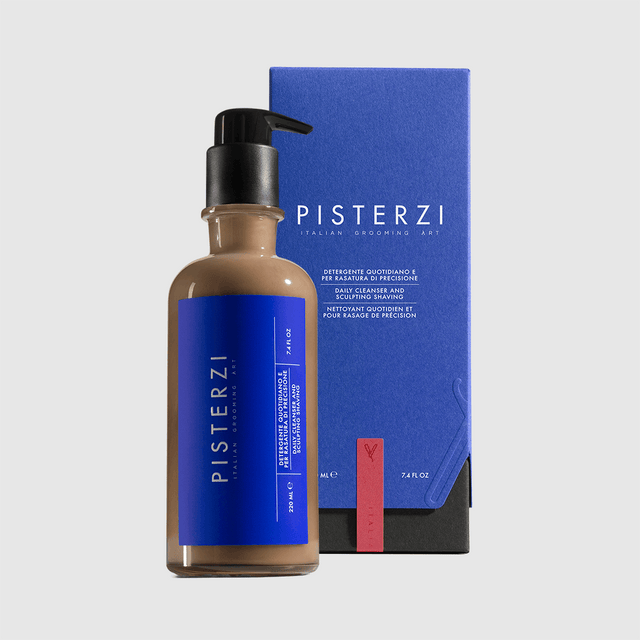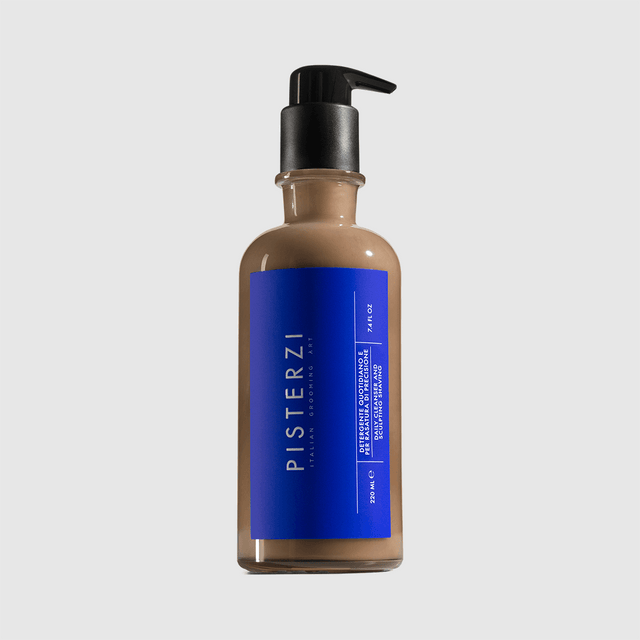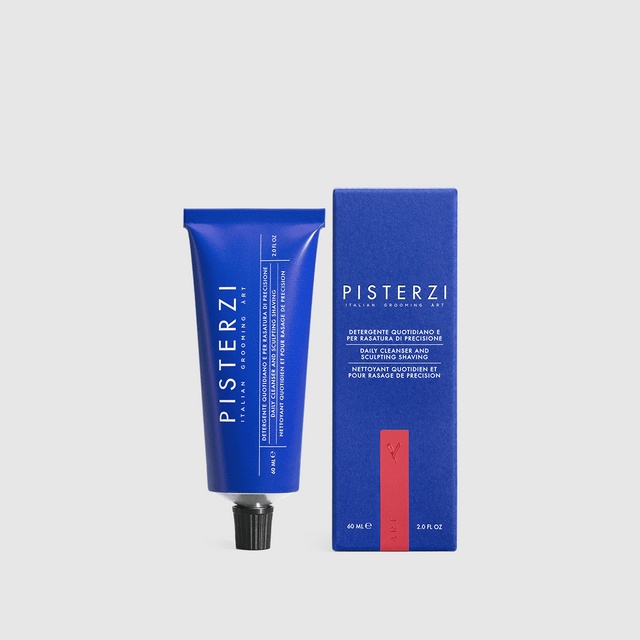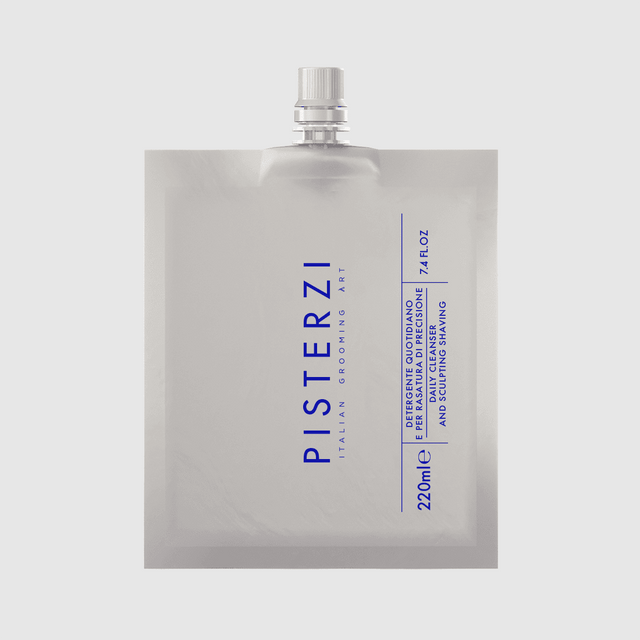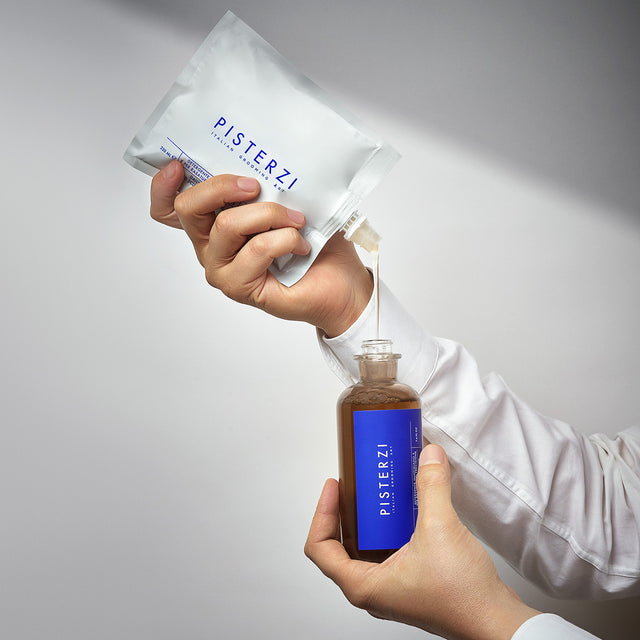 REFILLABLE GLASS BOTTLE
FORMULATED AND PRODUCED IN ITALY
FREE OF SILICONES - SLES - SLS
CLEANSING GEL FOR DAILY USE ON THE WHOLE FACE * WITH A FRESH AND LIGHT TEXTURE, AND A DUAL FUNCTION. IT CAN ALSO BE USED FOR PRECISION SHAVING THANKS TO ITS FILMING POWER AND ITS TRANSPARENT CONSISTENCY THAT FACILITATES THE VISIBILITY OF THE AREAS TO BE SHAVED.
FORMULATED WITH 95% ** OF INGREDIENTS OF NATURAL ORIGIN AND NICKEL-FREE *** IN FULL RESPECT OF EVEN THE MOST SENSITIVE SKIN **** IT IS SUITABLE FOR NORMAL, COMBINATION AND / OR DRY SKIN.
DAILY CLEANSING - A VERY DELICATE FORMULATION THAT CLEANSES DEEPLY AND CARRIES OUT A PURIFYING ACTION THANKS TO THE PRESENCE OF VITAMIN C***** MAINTAINING THE HYDROLIPIDIC BALANCE OF THE SKIN AND HYDRATION THANKS TO THE PRESENCE OF TREALIX®****** AN ACTIVE INGREDIENT CONSISTING OF A BALANCED COMBINATION OF A NATURAL DISACCHARIDE (TREHALOSE) AND VEGETABLE PROTEINS. ITS STRUCTURE MIMICS THE COMPOSITION OF THE NATURAL MOISTURIZING FACTOR (NMF), IT HELPS TO INCREASE SKIN TURGOR AND PROMOTES THE RECOVERY OF DRY, REDDENED AND SENSITIVE SKIN. THE PORES ARE LESS VISIBLE******* AND THE SKIN CLEAN, FRESH AND PLEASANTLY SCENTED.
PRECISION SHAVING - IF USED PURE ON THE SKIN OF THE FACE AND NECK IT CAN BE USED FOR A DELICATE AND EFFECTIVE PRECISION SHAVE; THANKS TO THE PRESENCE OF RED ALGA GEL®********AN ACTIVE INGREDIENT COMPOSED OF RED SEAWEED EXTRACT FROM THE PACIFIC OCEAN WITH EMOLLIENT, MOISTURIZING AND FILM-FORMING PROPERTIES. THANKS TO ITS HIGH CONCENTRATION IN CARRAGEENAN, RED ALGA GEL® IS ABLE TO FORM A PROTECTIVE LAYER ON THE SKIN AND RESTORE THE SKIN'S OPTIMAL PHYSIOLOGICAL CONDITIONS.
BENEFITS
* OPHTHALMOLOGICALLY TESTED SHORT TERM
** NATURAL ORIGIN INDEX (N.O.I.) ACCORDING TO ISO 16128 DEFINITION PART 1 AND 2 "GUIDELINES ON TECHNICAL DEFINITIONS AND CRITERIA FOR NATURAL AND ORGANIC COSMETIC INGREDIENTS AND PRODUCTS" REMAINING PART UPON COMPLETION OF THE FORMULA STRUCTURE.
*** NICKEL TESTED LOWER THAN 0.00001%
**** DERMATOLOGICALLY TESTED ON SENSITIVE SKIN
***** IN VIVO TEST VITAMIN C ACTIVITY OF ACNE BACTERIA INACTIVATION
****** TREALIX® IN VIVO TEST PERFORMS SHORT-TERM (+ 17%) AND LONG-TERM (+ 5%) HYDRATION MEASURED AFTER 1 WEEK OF USE
******* SELF ASSESSMENT TEST ON 20 VOLUNTEERS FOR 28 DAYS BETWEEN 35 - 50 YEARS
EFFECTIVENESS PROVEN BY CLINICAL STUDIES:
REDUCTION OF PORE VISIBILITY +90%
FEELING OF NON-OCCLUSION OF THE SKIN 100%
******** RED ALGA GEL® IN VIVO TEST PERFORMS A LONG-TERM HYDRATION OF 5% CREATING A PROTECTIVE FILM; 2 HOURS AFTER APPLICATION THE HYDRATION INCREASES BY 19% AND REMAINS UNCHANGED FOR 8 HOURS
HOW TO USE
CLEANSER: USE IN THE MORNING AND EVENING ON WET SKIN. MASSAGE THE PRODUCT ONTO SKIN FACE, FOCUSING ON THE FOREHEAD, NOSE, AND CHEEKS. RINSE ABUNDANTLY
SHAVING: APPLY PURE PRODUCT ON DRY SKIN, MASSAGE ON THE DESIRED AREA WHERE TO SHARPLY SHAVE THE LINES ON MUSTACHE, OR CHEEKS, OR NECK OR SIDEBURNS. APPLY SOME WATER, GENTLY MASSAGE THE PRODUCT ONTO SKIN AND SHAVED AREAS AND RINSE OUT.
INGREDIENTS
THIS LIST MAY BE SUBJECT TO CHANGES OVER THE COURSE OF TIME. PLEASE REFER TO THE INFORMATION INDICATED ON THE PRODUCT PACKAGING TO FIND OUT THE MOST UPDATED LIST OF INGREDIENTS
INGREDIENTS
AQUA (WATER) (EAU), PENTYLENE GLYCOL, GLYCERIN, ARGININE, COCOYL PROLINE, SODIUM LAUROYL OAT AMINO ACIDS, CARBOMER, HYDROLYZED VEGETABLE PROTEIN, PARFUM (FRAGRANCE), TREHALOSE, CAPRYLYL GLYCOL, MENTHYL LACTATE, SODIUM ASCORBYL PHOSPHATE, ETHYLHEXYLGLYCERIN, AHNFELTIOPSIS CONCINNA EXTRACT, OLEA EUROPAEA (OLIVE) LEAF EXTRACT, CITRUS LIMON (LEMON) FRUIT EXTRACT, LIMONENE, CITRUS AURANTIUM AMARA (BITTER ORANGE) FLOWER EXTRACT, CITRUS AURANTIUM DULCIS (ORANGE) FLOWER EXTRACT, CITRIC ACID, TRISODIUM ETHYLENEDIAMINE DISUCCINATE, SODIUM BENZOATE, CITRONELLOL, POTASSIUM SORBATE, LINALOOL, SODIUM DEHYDROACETATE, TROPOLONE.
BIOWATERS
FORMULA ENRICHED WITH BIOWATERS: BIO EXTRACTS OF LEMON - VITAMIN C - OLIVES.
THE BEST PLANTS FROM ORGANIC AGRICULTURE ARE TREATED WITH A DELICATE WATER-BASED EXTRACTION IN ORDER TO OBTAIN A RICH WATERY PREPARATIONS WHICH WE USE IN OUR COSMETIC FORMULATIONS. THE BIO WATERS ARE WATER-BASED PRODUCTS, NO CHEMICAL SOLVENTS ARE USED IN ANY PRODUCTION PHASE WHICH MAKES THESE PRODUCTS EXTREMELY SAFE AND WITH LOW ENVIRONMENTAL IMPACT COSMOS ORGANIC CERTIFIED.
LEMON EXTRACT WITH NATURAL PURIFYING PROPERTIES ORANGE EXTRACT WITH ANTIOXIDANT AND ANTIBACTERIAL PROPERTIES OLIVE EXTRACT WITH NUTRIENT PROPERTIES
GART DNA FRAGRANCE
ALL PRODUCTS IN THE RANGE ARE ELEGANTLY SCENTED WITH THE NOTES OF OUR G.ART DNA© FRAGRANCE. THE COMPOSITION OPENS WITH A ZESTY FRESHNESS OF BERGAMOT, ASSOCIATED WITH AROMATIC NOTES OF BASIL AND SAGE THAT DRESS A COMFORTABLE AND FRESH BOUQUET OF GERANIUM, CYPRESS AND HYSSOP. VETIVER, CEDAR WOODS AND PATCHOULI BRING TEXTURE AND RICHNESS TO THE COMPOSITION.
SHIPPING AND DELIVERY
YOUR ORDERS WILL BE SHIPPED BY COURIER FROM OUR WAREHOUSE BASED IN ITALY.
SHIPPING COSTS ARE CALCULATED AS FOLLOW:
- TO ITALY €5,00
- TO EUROPE €10,00
- TO THE UK AND SWITZERLAND €15,00
SHIPPING COST IS FREE FOR ORDERS OVER €80 IN THE ITALIAN TERRITORY (OUTSIDE THE ITALIAN TERRITORY SHIPPING COST IS FREE FOR ORDERS OVER €100)
REFILL
OUR COMMITMENT TO BE SUSTAINABLE AND CAREFUL FOR THE ENVIRONMENT. ALL OUR PRODUCTS ARE AVAILABLE IN REFILLS (TO BE PURCHASED SEPARATELY) TO REFILL THE CORRESPONDING GLASS BOTTLE / JAR.
HELP US IN OUR SUSTAINABILITY MISSION FILL AND REUSE!

THE REFILL ALLOWS TO REDUCE THE C02 EQ EMISSION PER LITER OF PRODUCT BY MORE THAN 60% COMPARED TO THE '' PURCHASE OF 1 LITER WITH BOTTLE OR GLASS JAR

SOLID SHOPPER
OUR SHOPPING, HALFWAY BETWEEN A SHOPPING AND A BOX, IN 100% RECYCLED PAPER IN OUR UNMISTAKABLE BLUE AND 100% RECYCLABLE, EVEN THE HANDLES ARE IN PAPER.
FOR YOU OR FOR A SPECIAL GIFT BOX.
RECYCLABLE PACKAGING
THE COMPONENTS OF OUR PRODUCTS ARE RECYCLABLE AND CAN BE DELIVERED IN THE SEPARATE COLLECTION TO WHICH THEY REFER; CHECK THE MATERIAL INDICATIONS ON THE PACKAGING.

CHECK THE PROVISIONS OF YOUR MUNICIPALITY
EMPTY THE PACKAGING OF ITS CONTENTS BEFORE RECYCLING
CARE IN DETAILS