GIFT CARD ACQUISTO PRODOTTI ON-LINE (NO ATELIER)
Regular price

€50,00
Sale price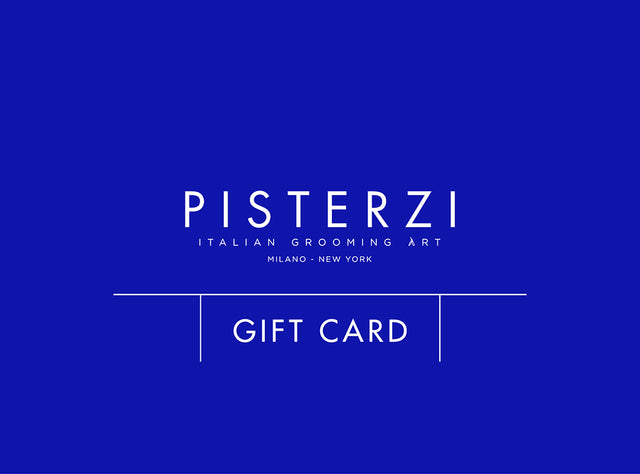 LA GIFT CARD PISTERZI È IL REGALO PERFETTO.
SCELGA L'IMPORTO DA REGALARE, RICEVERÀ UNA GIFT CARD DIGITALE VIA E-MAIL CHE POTRÀ ESSERE UTILIZZATA SUL NOSTRO E-STORE PER L'ACQUISTO DI PRODOTTI GROOMING E FRAGRANZE.
LE NOSTRE GIFT CARD NON HANNO SCADENZA E POTRANNO ESSERE UTILIZZATE PER L'ACQUISTO DI PRODOTTI PISTERZI ITALIAN GROOMING ART SOLO SUL NOSTRO E-STORE.
PER L'ACQUISTO DI GIFT CARD PER LA PRENOTAZIONE DEI SERVIZI NEI NOSTRI ATELIER DI MILANO E NEW YORK, LA INVITIAMO A VISITARE LE PAGINE DEDICATE:

MILANO, VIA MONTE NAPOLEONE, 17
NEW YORK - SOHO, 367 WEST BROADWAY
GRAZIE
SHIPPING AND DELIVERY
YOUR ORDERS WILL BE SHIPPED BY COURIER FROM OUR WAREHOUSE BASED IN ITALY.
SHIPPING COSTS ARE CALCULATED AS FOLLOW:
- TO ITALY €5,00
- TO EUROPE €10,00
- TO THE UK AND SWITZERLAND €15,00
SHIPPING COST IS FREE FOR ORDERS OVER €80 IN THE ITALIAN TERRITORY (OUTSIDE THE ITALIAN TERRITORY SHIPPING COST IS FREE FOR ORDERS OVER €100)
REFILL
OUR COMMITMENT TO BE SUSTAINABLE AND CAREFUL FOR THE ENVIRONMENT. ALL OUR PRODUCTS ARE AVAILABLE IN REFILLS (TO BE PURCHASED SEPARATELY) TO REFILL THE CORRESPONDING GLASS BOTTLE / JAR.
HELP US IN OUR SUSTAINABILITY MISSION FILL AND REUSE!

THE REFILL ALLOWS TO REDUCE THE C02 EQ EMISSION PER LITER OF PRODUCT BY MORE THAN 60% COMPARED TO THE '' PURCHASE OF 1 LITER WITH BOTTLE OR GLASS JAR

SOLID SHOPPER
OUR SHOPPING, HALFWAY BETWEEN A SHOPPING AND A BOX, IN 100% RECYCLED PAPER IN OUR UNMISTAKABLE BLUE AND 100% RECYCLABLE, EVEN THE HANDLES ARE IN PAPER.
FOR YOU OR FOR A SPECIAL GIFT BOX.
RECYCLABLE PACKAGING
THE COMPONENTS OF OUR PRODUCTS ARE RECYCLABLE AND CAN BE DELIVERED IN THE SEPARATE COLLECTION TO WHICH THEY REFER; CHECK THE MATERIAL INDICATIONS ON THE PACKAGING.

CHECK THE PROVISIONS OF YOUR MUNICIPALITY
EMPTY THE PACKAGING OF ITS CONTENTS BEFORE RECYCLING